I'm so excited to share that this week, my first New Adult contemporary romance, THE TROUBLE WITH GOODBYE, was released! I know I've been teasing and talking about it already a few times, but for anyone who missed it, here is what the book is about: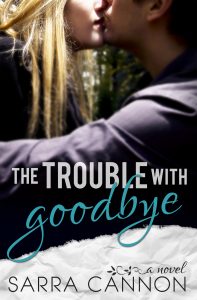 Two years ago, Leigh Anne Davis shocked everyone in tiny Fairhope, Georgia when she broke up with her wealthy boyfriend to attend an Ivy League university a thousand miles away. At school, she finds a happiness and independence she's never known.
Until one terrifying night takes it all away from her.
With no place else to go, Leigh Anne heads home to reclaim her old life. A life she worked so hard to escape. On the outside, she seems like the same girl everyone has always known. But deep inside, she's hiding a terrible secret.
That's when she meets Knox Warner, a troubled newcomer to Fairhope. His eyes have the same haunted look she sees every day in the mirror, and when she's near him, the rest of the world fades away. But being with Knox would mean disappointing everyone all over again. If she wants to save what's left of her old life, she has no choice but to say goodbye to him forever.
Only, the trouble with goodbye is that sometimes it's about courage and sometimes it's about fear. And sometimes you're too broken to know the difference until it's too late.
So far, the response to this book has been more than I ever dreamed. Thank you to everyone who has already taken the time to read and review the book. If you haven't picked up your copy yet, here's where you can get it:
| Amazon | Amazon UK | Barnes & Noble | iTunes | Kobo | Smashwords |
If you're not ready to buy, but don't want to forget about it, add it to your goodreads to-read shelf here:

 A PRINT VERSION will be ready soon too! This will be my first book in print, and I'll be offering a chance to get yours signed, so be on the lookout for more information to come soon.
As I've mentioned a couple of times before, this book is very different from the Peachville Demons series. There's no magic and the characters are college-age, so there's a little more sexy times and a much darker subject matter. However, my writing style is always the same, so if you enjoy college-age romance, I really think you'll like this!
Thanks for letting me share another story with you.
xoxo,