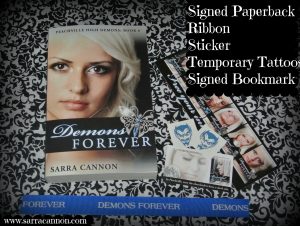 Hi everyone! I had an extra DEMONS FOREVER paperback left over from the Romance Writers of America book signing I did last week, I thought it would be great to offer it up to the best people in the universe – my fans!!
You guys have really changed my life and made my dreams come true. It is seriously a dream come true to be able to write full time and stay home with my son. I can't thank you enough for all the love and support you have shown me over the past few years. Thank you to each and every one of you who has read the Peachville High Demons series and supported me and my books.
A few things before we get to the giveaway! I wanted to take a second to tell you about my new series that just started July 5th. It's called the Eternal Sorrows series and is a twist on your basic zombie story. Instead of just a typical virus/zombie story, this book is about magic and witches!! Yay! If you loved Peachville, I really think you'll like DEATH'S AWAKENING, book 1 in the Eternal Sorrows series. Told from the point-of-view of six different characters, this is a very rich story full of magic, adventure, and a hint of romance that will grow as the series goes on.
Some reviews for Death's Awakening:
"Sarra has outdone herself – I was sucked in to the story from the first chapter, and I truly cared and worried about the characters." ~ Jo Brown, Amazon Review
"I LOVED how magic was involved, it definitely makes this zombie book stand out against all the others I have read. It was an awesome book with a lot of twists and I couldn't put it down!" ~Tara, Amazon Review
"This book is action packed, hair raising, spine tingling, comepletely awesome I loved every single minute of it and couldn't put it down!!!" ~Amy Conley, Nerd Girl Reviews
"This is the most fresh, unique perspective on zombies I've ever seen." ~B.L. Noble, Amazon Review
If you want to read Death's Awakening, you can buy it here: Amazon   |  Amazon UK  | Barnes & Noble  | iTunes  | Kobo  |  Smashwords
The second piece of news, just in case you haven't heard, is that I am working on a
novella from Jackson's point-of-view! It's called  A DEMON'S WRATH and will hopefully be out in the next month or two. And this isn't going to just be a retelling of what you already know. This is actually going to follow Jackson's life before he ever came to Peachville. It will be a must-read lead-in to the second Peachville series, starting in 2014!! I don't have a name yet for the second series, but I think I might call it the SHADOW series. I hope to have some fun announcements for that and a VERY special event happening in October, coming soon!
Whew! Okay, with those things out of the way, here is the signup form for the giveaway! The prize includes a signed paperback of DEMONS FOREVER, the final book in the Peachville High Demons series, as well as a Demons swag pack that includes a ribbon, demon temporary tattoos, stickers and a signed Demons bookmark. This contest is open Internationally to include ALL of my amazing fans!
The contest ends next Friday, so spread the word!