Hey everyone! I'm so excited to show you the AMAZING covers for The 12 NA's of Christmas.
THE 12 DAYS OF CHRISTMAS JUST GOT HOTTER!!!!!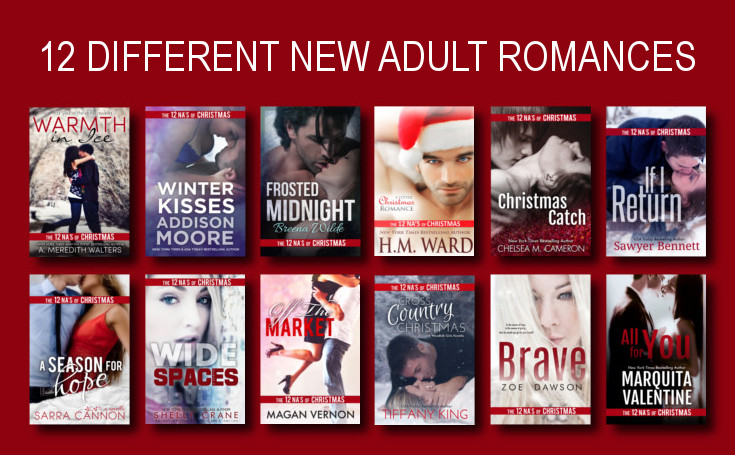 If you hadn't heard about these yet, let me tell you, this is going to be FUN! 12 different bestselling authors each writing their own novella about Christmas. These will all be sold separately, but each have some major event centering around the Christmas season. I ADORE Christmas romances, don't you?
These 12 novellas all hit ebookstores on November 1st! Read about each novella and add them ALL to your Goodreads list now.

Just a little extra information about A SEASON FOR HOPE, my novella. This novella is set in the town of Fairhope, Georgia, which some of you will recognize from my books The Trouble With Goodbye and The Moment We Began. A Season For Hope follows Bailey's story. Remember Bailey? She's the girl who has been dating Preston. One of Leigh Anne's best friends from high school, Bailey has been living on the edge, not sure whether Preston loves her or if he's just using her to have a good time.
After a devastating breakup, Bailey is ready to give up on life. But can sexy med-student Judd Kohler show her that Christmas really is a season for hope?
A Season For Hope releases November 1st as part of The 12 NA's of Christmas event! Just like my novella, several of these novellas are tied to the authors' series, but can be read as stand-alones.
I hope you're as excited about returning to Fairhope as I am.
What do you think of these covers? Do you have a favorite? (All of these covers were made by the amazing Sarah Hansen of Okay Creations)