Hey all! I just wanted to let you know that I'm in a box set with some other AMAZING YA authors! This set has 6 YA fantasy/paranormal books for just 99 cents.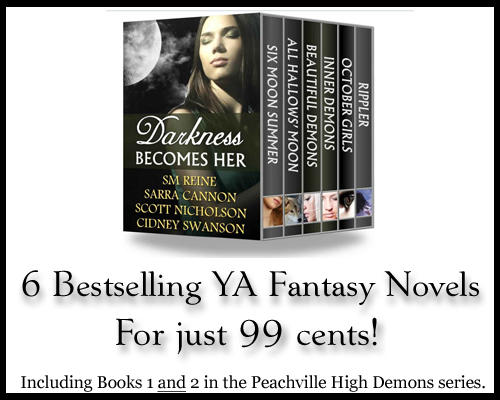 Here's what you get:
From me: BEAUTIFUL DEMONS and INNER DEMONS (books 1 and 2 in the Peachville High Demons series)
Scott Nicholson's OCTOBER GIRLS
Cidney Swanson's RIPPLER
SM Reine's SIX MOON SUMMER and ALL HOLLOWS' MOON (Books 1 and 2 of Seasons of the Moon)
Seriously, even if you've read the Peachville books, this is still a great deal for only 99 cents, and I would really appreciate the support!!
This box set will only be up for a short time, so pick your copy up now or share with friends to help introduce them to the beginning of the PHD series before EMERALD DARKNESS comes out!
Here's where you can purchase:
*iTunes should be up soon*