Hiya! I know it's been way too long since I posted, but I'm still getting settled into my new house in South Carolina and I'm busy working on the final edits for Sorrow's Gift. I wanted to take a moment today and let you know about two amazing deals going on today and for a limited time.
First, my friend, author Karly Kirkpatrick, has a new release in her Bloody Little Secrets series!!!! If you haven't read the first book in this series, you are missing out. Especially if you love YA paranormal and vampires (and who doesn't, really?). The first book, BLOODY LITTLE SECRETS is actually FREE to download, so you might as well give it a try. It's very highly recommended.
Some secrets don't stay buried. Neither did Vicky. 
17-year-old Vicky Hernandez has a big problem. She's dead. Or not quite. After discovering she's been turned into a vampire, she tries to settle into a quiet suburb of Chicago and return to a normal life. If only she could stop wanting to bite her boyfriend. Not to mention she is dying to find out who turned her, and why. She doesn't have to wait long before they come to her. 
DOWNLOAD FOR FREE AT:
AMAZON  |   Barnes & Noble   |   Kobo
A ton of people have been dying for the sequel to this one and guess what?? It just released a few days ago!!! I just picked up my copy and cannot wait to read it.
Vicky Hernandez thought her troubles were over after she knocked off a greedy local vampire. But when a serial killer comes to town, the cops are stumped, and Vicky and her friends decide to help out and discover the monster behind the crimes on their own. Their detective skills are a little too good. Instead of catching the criminal responsible, they find themselves on a whirlwind adventure across the world to fix the mess they made. With their lives and the lives of others at stake, if they fail, the grave Vicky dug herself out of six weeks ago may become her eternal home.
Karly Kirkpatrick is a teacher by day and a writer by night. Her list of titles include her YA novels, Into the Shadows, Darkness Rising, After Dawn, The Green, Bloody Little Secrets, and a selection of short stories, including EIGHT and Negatives. You can find out more about Karly on her website.
Purchase at:
AMAZON    |    Barnes & Noble    |   Kobo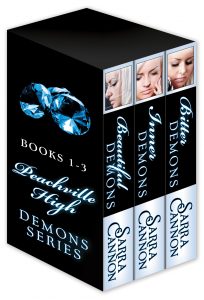 I also wanted to let you all know that my Beautiful Demons Box Set is on sale for just 99 cents! It's also the Ereader News Today Book of the Day, so if you have friends you've been wanting to introduce to the series or if you haven't yet read my paranormal books, now is the perfect time to try it.
The box set has the first three full novels of my Peachville High Demons series. For one week only, I've also listed Book 4, Shadow Demons, for just 99 cents. That means you can pick up all 6 books in the series for less than $9. With the spinoff series beginning soon, now is a good time to catch up if you haven't finished the first series yet!
BUY NOW:  AMAZON    |   Barnes & Noble  |  Google Play   |    iTunes   |   Kobo
I hope to have good news coming very soon for Sorrow's Gift!!! And my next project is the one everyone's been emailing me about, haha. Emerald Darkness, which is book 1 of the second Demons series, told from both Harper and Lea's pov. I'm so excited to write that book, so I'll have news and a cover reveal soon!