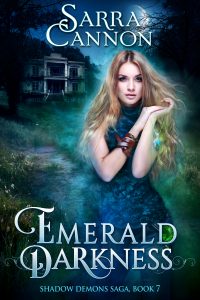 Hi everyone! As some of you know, over the past five weeks I've been sending out exclusive prequel stories to my mailing list subscribers. Now that we are just five short days away from the release of Emerald Darkness, I thought I would share these stories with everyone else!!!
These short glimpses into each character were originally a set of scenes at the beginning of the book. When I cut them out, I hated to just throw them away entirely, so I wanted to share them with you!
Over the next few days leading up to the release, I'll post a new short scene. Again, these are not actually in the book, but they do show you where each character is and what they're thinking just before the book begins. (And for those of you who have read A Demon's Wrath, this is just after the end of that novella!)
HARPER
Darkness cloaked the view outside my bedroom window.
I leaned my head against the cool glass and stared at the garden below. Even now, though the shadows hid its full beauty and the November wind was growing colder, I could still make out the bright colors of the flowers, their petals shimmering in the moonlight.
I smiled. Zara treated the garden like her baby–constantly nursing and encouraging the vines from their roots below ground. She had a real talent with delicate things. Hard to believe someone who had lost so much could create something so intensely beautiful.
Everyone who was here now had lost something. And everyone had also contributed somehow to making this our true home.
After all this time, Brighton Manor had been restored to what it once was–a historic Southern estate with a lovely garden, fresh white paint, and the sounds of family ringing through its halls.
And yet, this place would never truly be what it once was. This house had been built for a Prima family, chosen by the Order of Shadows to rule the Peachville coven. Even though the house was beautiful, its original purpose had been like that garden, veiled in shadows.
My hand drifted to my chest and the chain that hung against my skin. My mother's broken necklace, now joined by a golden locket.
Jackson's heart stone, the light of his love, locked inside.
I smiled and closed my eyes, letting the warmth of his love fill me with peace. I never thought I would be the type of girl to get engaged at the age of eighteen.
But then again, I never could have imagined I was a princess, either. So much of my early life had been spent wishing for something more. Begging for someone to care about me. I simply wanted to feel like I belonged.
Like I mattered.
I had somehow found all that and much more in Peachville. Yes, all my dreams had come true, but like all things, there was a cost. The world needed balance to survive, so with dreams came nightmares.
I took a deep breath and let it out slowly, waiting for the frantic beating of my heart to calm itself.
The nightmares were getting worse.
Some nights, I was afraid to close my eyes at all, dreading the horror that would come in my sleep.
There was nothing gory or violent about the dream I'd been having every night for weeks now. It was the mystery that was so terrifying. The knowing that something was out there waiting for us, ready to get its revenge. The nightmare was more of a feeling than anything else. An omen of the darkness yet to come.
How long did we have?
I touched the locket again, running my fingertip over the smooth gold surface. Jackson said he had chosen tonight to propose because it was my eighteenth birthday. It was the night I would have become the Prima if we hadn't stopped Priestess Winter and closed the Sapphire demon gates.
He said he wanted to bring joy and happiness to a night that would have been the end of joy if not for our bravery.
But something brushed up against my heart when he said that. Maybe it was something in his eyes? A type of sorrow or fear that flashed for just an instant. Or maybe I simply knew him too well.
Jackson could see glimpses of the future, and more than once over the past few months, I had come into the bedroom to see him scribbling furiously on a piece of drawing paper. When I asked what he had seen in his visions, he always slipped the page into his notebook and shook his head, saying the image wasn't formed enough to understand what it was yet.
But I knew better.
Something was coming. A darkness greater than anything we'd faced before, I had no doubt.
For months, we had prepared ourselves for some kind of attack. We killed one of their own. The four remaining sisters weren't simply going to sit back and let us get away with that.
No, they were in hiding, plotting and planning their next attack.
I shuddered and stared into the darkness beyond the garden.
Where were they? What were they planning to do?
I wished with everything in my heart and soul that I could see the future. I wished I could see whatever was coming so that I could somehow protect us all against it.
I glanced over at Jackson, sleeping soundly in the bed, the blankets only half-covering him, his arm raised against his forehead. My eyes filled with tears, and my heart filled with so much love it hurt.
My whole life, all I'd wanted was this. A house full of those I loved.
No matter what it cost, I wasn't about to let the Order of Shadows take that away from me.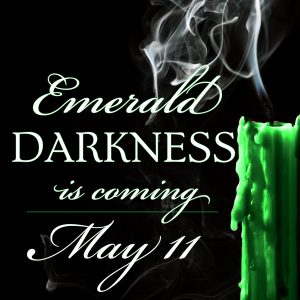 Preorder Now for Only $0.99!!
*Preorder is not available for Amazon, but don't worry! The book will still go on sale there on May 11th at the special 99 cent price for one week only!
Want to receive special bonus material like this before anyone else? And also get an email on release day with links to purchase the books?