Hi, everyone!! You may have noticed that I've been awfully quiet most of the summer. I made a post where I got super excited about everything I was working on back in June, and then I promptly hit a major wall. Basically, everything I said back then has needed to be completely revamped and reworked, but this is the way it goes when you are living a creative life. Sometimes it's just not easy to create, and you have to learn to roll with the punches and try to keep your head up.
I don't want to give you guys some laundry list of excuses. I'm feeling very good and positive and ready to move forward, so I don't want to seem negative at all. But then again, I feel responsible to my readers, and I want you guys to know that I'm always trying my best to gets books done as quickly and efficiently as possible, even when life doesn't cooperate. Long story short, 2016 has been a tough year for me for a number of reasons. I've been in the hospital twice, had emergency surgery that was tough to bounce back from, had to deal with chronic pain, and been blessed with a few ear infections and sinus infections throughout the year. For me, it's really tough to be creative when I don't feel well, so this has put a few kinks in the chain for me this year.
Secondly, I've been going through a lot of deep soul searching this year. I think I really felt it coming on some last year, but after a few important events and realizations this year, I just knew I needed some time to be quiet and to focus inward for a little while. Maybe it sounds a bit cheesy, but the truth is that this kind of time for me is entirely necessary. My books are all fiction, but they also each carry a large part of myself inside them. In order for me to write them to the best of my ability, I sometimes need to spend some time on myself and figure out again who I am and what I really want out of life. It's been like this for me this summer, and it's been difficult and heart breaking, but also incredibly empowering and affirming.
If you are at all creative, you probably understand this, but writing can sometimes be an emptying-out process where I put everything I have inside the characters and the story. When I'm totally empty, there's nothing to do but refill and reflect and take whatever time I need to feel ready to dive back in and begin creating again. I'm ready to get back to creating now, but it's felt like a long road to get back here, honestly.
The other kink is that I've never been the kind of writer who can force a story to come when it just doesn't want to. I'm not talking about discipline, exactly. I'm able to have bad days where everything is slow and crappy, but I come back again and again and slowly the story comes together. I'm talking about this feeling deep inside that tells me, "Okay, this is supposed to be my next release, but this story isn't ready. It's just not there. Write something else."
I hate it when that voice pops up, because I know there are those of you waiting for a certain story to come next. Maybe you've been waiting years already, and the last thing in the world I ever want to do is disappoint my readers. But at the same time, I know deep in my heart that if I force a book that isn't ready, you're going to be disappointed anyway, because the book will be terrible. So instead, I have to do the best thing I can do, which is set it aside until it's ready and write something else.
Which is what I'm going to do. I intended to write both Sacrifice Me, Season 2 and The Trouble With I Do over the summer, but even thought I worked on SM for months, the story just wasn't coming together. It needs more time. I'm beginning to think that since Sacrifice Me is set in the same world as the Shadow Demons Saga, I just won't be able to write SM until I get to a different point in the war against the Order. So it just needs to wait. I know this will be disappointing to many of you who have already waited so long, but I hope you will be patient and understanding. I'm pushing it back indefinitely, but not abandoning it. I'll write the second season as soon as it feels like the right time for that story.
In the meantime, I do have a brand new cover for Sacrifice Me, Season 1 that I've been dying to show you!!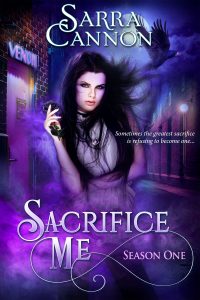 This cover was created by Ravven, the artist who also just did all the brand new covers for the Shadow Demons Saga. Isn't it fantastic??? She's also put together amazing covers for Sacrifice Me Season 2, but those will wait until next year.
As for The Trouble With I Do, I've made the decision to write this final Fairhope book as a novella rather than a full-length novel. I tried working on it for a while and realized that really, this story is more of a wrap-up of the series. A bookend, so to speak. It's going to be wonderfully emotional and will give an update on all the Fairhope characters you've come to love, but it will be shorter, sort of like A Season For Hope. The Trouble With I Do is slated now for a November 7th release date, but it's possible it could be as late as early December.
Right now, however, the book I really want to be working on is Beyond The Darkness. Now that I'm really ready to be writing again, this is the story that keeps coming up over and over, and I'm excited to continue the series. I don't have a release date set as of yet, but I promise I will show you the amazing new cover and give you an expected release date as soon as I know for sure when it will be ready. It should definitely be this year or early 2017, and hopefully sooner rather than later, but it will simply take as long as it takes.
Another thing I've realized during this time of soul-searching is that I really miss the excitement of writing something brand new. Coming up with a new set of characters and creating a new world is part of why I love writing so much. That being said, I haven't had a chance to do this in a very long time. My Eternal Sorrows series is based on a book I started back in 2009. The Shadow Demons Saga was started back in 2010 (and even though Sacrifice Me didn't start until 2014, it's still based on this world and magic system). Fairhope is my most recent "new" series starting in 2013, and since it's contemporary, there is no new magic system or world to build in the same way I do with the fantasy books.
I miss the world building and writing something new, but I've held myself back from it because I know I have several series ongoing and didn't want to upset anyone by pushing something back. In the end, though, I have to follow my heart and just pray that you guys will still love me and read whatever comes next :). What I've realized is that in order to get back to writing the final books in Sacrifice Me and Eternal Sorrows, I really need some freedom to write something new that's just totally fun and free and creative. I need to get back to the task of writing simply for the joy of it, rather than feeling like there's a deadline and a bunch of expectations.
So as well as writing the next Darkness book, I'll also be working on a brand new set of 4 books about witches who are sisters. I don't even have a title for this series yet, but I can tell you that I'm crazy excited about it!! They will be pure fun, have a little bit of mystery in them, some good romances woven in, and a brand new magic system. I'll post more news on these sisters as it comes up, I promise.
So that's my update for now!! Thanks to those of you who have read this far and are still with me. And especially thank you to my true fans who understand and embrace my crazy. I know it can be a rollercoaster and that I don't always deliver books as quickly or on schedule as many other authors, but in the end we all have to be true to ourselves. I just want you to know I sincerely appreciate that you are still here with me, still reading what I write, even when it's not coming on time or on the perfect schedule.
To sum up, in case I was too wordy before, here's the current status of each of my series:
Sacrifice Me, Season 2 is getting pushed back to next year.
Beyond The Darkness is my current work-in-progress, and I will give an update and release date as soon as I can.
The Trouble With I Do novella will be released in November or December of this year and will close out the Fairhope series.
Fate's Surrender, what I anticipate to be the final book in the Eternal Sorrows series, will likely also be out sometime next year.
And finally, there will be a new series about 4 witch sisters coming potentially sometime next year, but more news soon!
Thanks for understanding, you guys. You know I love and appreciate you!!! <3 <3
P.S. OH!!!! I wanted to also tell you that I have a new logo from the incredible Sarah Hansen (the artist who created the Eternal Sorrows and Fairhope covers). I'll be unveiling it all with a brand new website at the end of this month. I know this site is currently a bit of a mess, but the new one is going to be INCREDIBLE. Can't wait to show you all the new pretties!