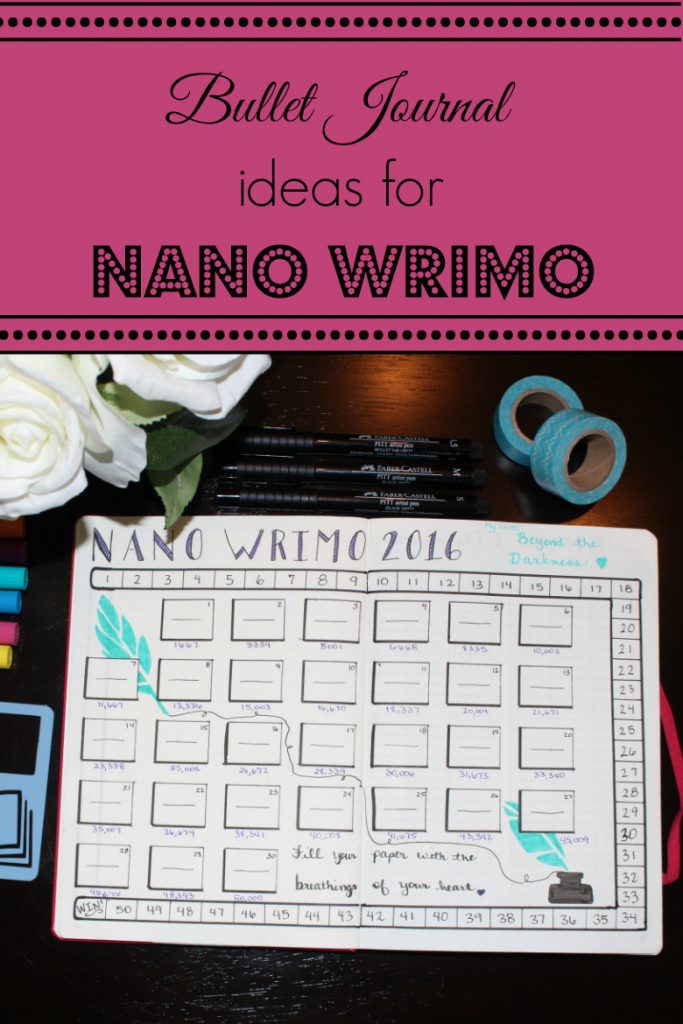 It's almost that most magical time of year — NaNo WriMo!!! For those of you not familiar with NaNo, it stands for National Novel Writing Month, and it comes around every November. The goal is to write a 50,000 word novel in 30 days. Whew, trust me when I say this is not easy!! But you can also trust me when I say it's incredibly fun.
I participated in NaNo WriMo for the first time back in 2007, shortly after I quit my job teaching music at an Elementary School in order to pursue my lifelong dream of becoming a writer. I basically had no clue what I was doing back then, but the challenge of writing a 50,000 word novel in 30 days excited me. It didn't matter if the book was any good. I just needed to prove to myself that I could do it. There would be plenty of time for edits once November was done. So, I jumped in and wrote my first novel ever, a terrible horror novel I titled Into Darkness. (The only person who has ever read this is my husband, and he actually liked it, but I seriously doubt this book will ever see the light of day unless I get the urge to go through some MAJOR edits.)
The point of NaNo WriMo for me back then as a new writer wasn't whether I could write the great American novel, or even a good novel. I just needed to prove to myself that I was capable of writing enough words and coming up with enough ideas to last 50,000 words worth of a book. Winning that first year taught me that I could do it, and from there, I learned how to do it well. NaNo WriMo gave me the confidence to try.
The following year, I wrote a zombie apocalypse novel, and I met some of the best friends I've ever had. I've been completely hooked on NaNo ever since, participating in every Camp NaNo (in April and July every year), and in the big show in November. I never miss it, even if I don't always win. The winning is awesome, but it's the experience and the journey that matters most to me.
Still, I'd really love to win NaNo WriMo this year! I've been in between projects every year for the past several, but this year it looks like I'm actually going to be perfectly set up to start a brand new book November 1st. I want to set myself up as best as I can for a win this November, and for me that means a way to track my progress and stay motivated throughout the month. I've always been a planner addict, but this year I started a bullet journal for the first time, and I absolutely love it. I decided to play around with some word tracking spreads in my bullet journal, and after a few really messy attempts, I came up with something I really like!!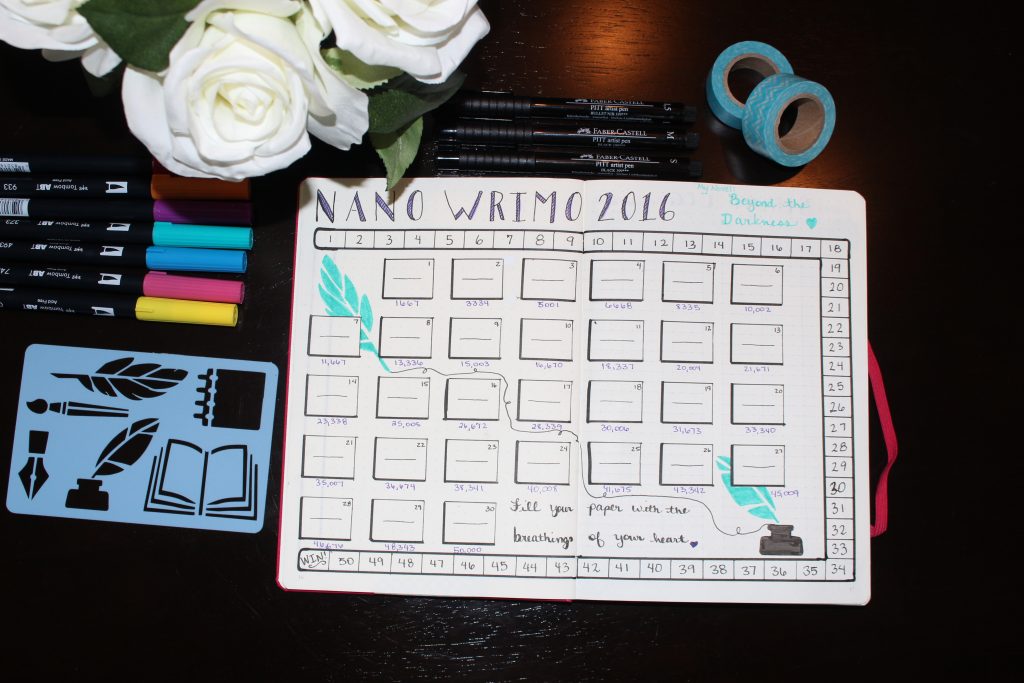 I started with a 30-day calendar. Each day is split with a line in the middle. I plan to write my daily word count above the line each day and my monthly total below the line. Underneath each box, I've written the daily total word count goal in order to get to 50,000 on time. Around the edges of the spread, I've created 50 boxes. I plan to color in these boxes as I get to that target word count. My plan is to use a different colored pencil each day, so that by the end of the month, I'll be able to see a visual representation of how many words I wrote each day. Hopefully at the end of this November, I'll post a completed version of this page, so that you can see how I did.
I've also followed this NaNo WriMo Bullet Journal Spread with a sprint tracker. I tend to write best when I use timed sprints of either 20 or 25 minutes with a 5 minute break in between. On this sprint tracker, I will write my starting manuscript word count in the first box, my ending count for the sprint in the box underneath that. Then beside that box, I'll write how many words I wrote this sprint, and beside that in the box on the far left, my total word count for this session.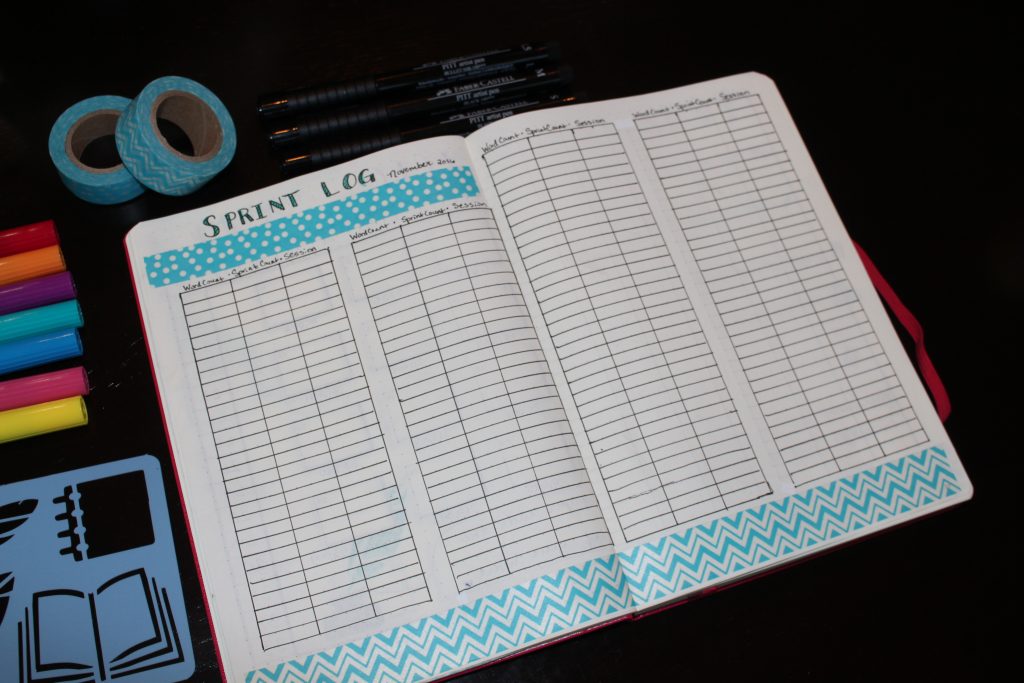 For example, if my manuscript was currently at 11,310 words, I would write that count under "word count" on the left box. When my sprint was over, I would check my manuscript total and mark that down underneath the original word count. Let's say I finished my sprint with 11,892 words. Next, I subtract the current from my previous count in order to get this sprint's word count. In this case, it would be 582 words. I would write this number in the center box marked "Sprint Count". If this is my first sprint of the session, I would simply write 582 in the "Session" total, but if I got 396 words in my second sprint, the session total would go to 978 words. In order to keep track of the sessions, I'll write the date out to the left side of the boxes when I start for the day. I've written an example 4 sprint "session" in pencil here, just so you get the idea.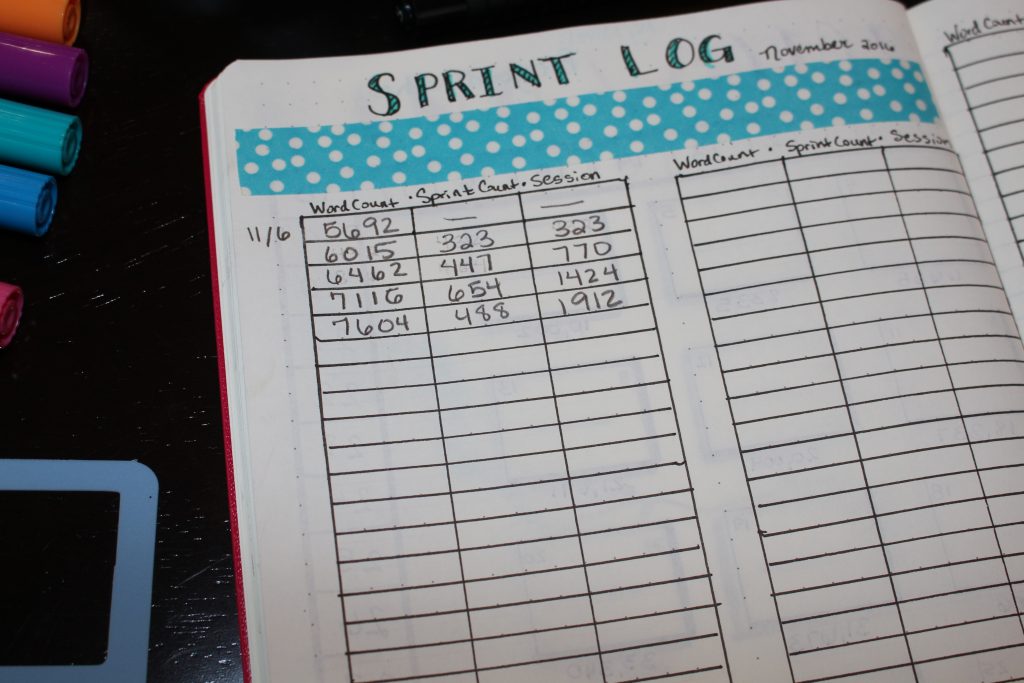 In this example, the date is 11/6, and when I started my first sprint, I had a manuscript total of 5692 words. After the sprint was over, my manuscript was at 6015 words, which means I got 323 words that sprint. Since it's my first sprint of the day, my session total is 323 words. By the time I finished my 4 sprints of the day, my manuscript was at 7604 and I wrote a total of 1912 words this session. Make sense? This is the way I track my word count every month, but it's a great way to use your Bullet Journal to track NaNo WriMo word counts, especially if you use timed sprints.
Finally, I decided in order to keep up my motivation for the month, I would work in a rewards system. I'm easily motivated by happy, shiny rewards, so I have been saving up for some amazing rewards for this year's NaNo.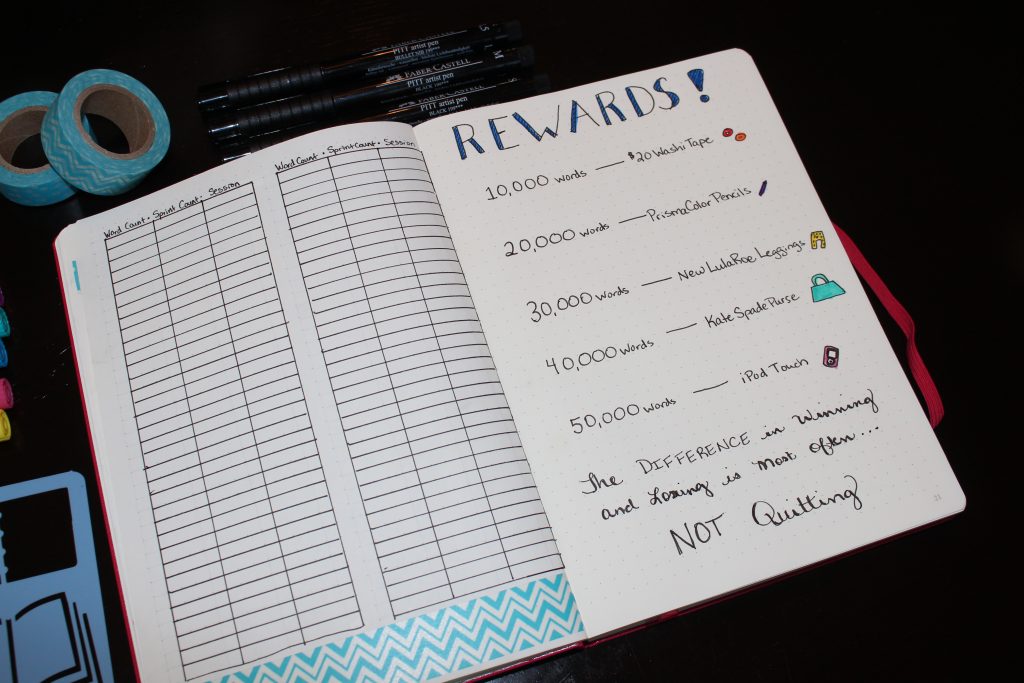 I've really, really been wanting that iPod touch, so I know that's going to keep me motivated this November. I actually already have all the other rewards purchased and waiting for me to claim from my "Sweetie Store". Every time I walk by that Kate Spade purse, I die that I can't put my stuff in it and carry it to dinner! I'm going to earn that next month! I have to!
Are you gearing up for NaNo WriMo this year? How are you planning to track your word count? Have you ever used a Bullet Journal for Tracking your Word Count?
If you'd like to get started with your own bullet journal, here is a list of my favorite supplies. (*Some of these links are affiliate links, meaning I may receive a small commission if you purchase something through these links. It doesn't cost you anything!)
My bullet journal – Leuchtturm1917 Dot Grid Journal One of the coolest things about a bullet journal is that you can use just about any notebook or journal that you want. I personally prefer this Leuchtturm because of the dot grid pages, the index in the beginning, and the fact that the pages are numbered. I also love the fact that it mostly lays flat and has a sturdy hard cover. If you like the dot grid, but want to use something a little less expensive, you could try something like this Northbooks notebook.
My favorite pens – Faber Castell Pitt Artist Pens. I use the ones in that first set and this other set, as well. I also like to use fine-point Sharpie Pens.
Colored Markers – To add color to my pages, I am addicted to Tombow Dual Brush Pens. They have a brush marker on one side and a fine-point marker on the other side. They come in tons of different colors. I prefer the bright, but I also use the primary colors. If you really want to go crazy, you could get this 96 color set. I want it! You can do some amazing things with tombow markers, by the way. Check out this video, which shows you a bunch of different techniques. And be careful, you might get lost on YouTube watching everything you can do with a bullet journal and your tombow markers.
Washi Tape – Believe me when I say this is another rabbit hole you can fall very far down, but if you search for washi tape on Amazon, you can find all kinds of amazing designs to use. I'm not going to even tell you how many different designs of washi tape I have in my house. It's embarrassing :P.
Stencil – I found this incredible NaNo WriMo themed stencil on Etsy.
Ruler – You don't have to use a ruler with the dot grid notebooks, but even with the dots as a guide, I still have wonky lines, so I like to use a ruler. I bought a simple, cheap, wooden ruler like this one. It's only a dollar, but it's an add-on item at Amazon, so you have to spend $25 to add it to your cart. Any ruler will work, though.
So, there you have it! My Bullet Journal Spread for NaNo WriMo. I hope it helps you to come up with a fun and productive way to track your word count and progress this November. Feel free to copy it or to use it as a stepping stone to coming up with your own design. And if you're doing NaNo this year, I wish you the best of luck! Let's win this thing!