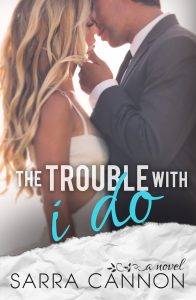 The final book in my Fairhope series, The Trouble With I Do, is out today! Gosh, you guys, this book was such a labor of love. It is probably the most vulnerable I have been in a book since The Trouble with Goodbye, and I think it's because Leigh Anne is so much like me in so many ways. The book is pure fiction, of course, but I guess there's a piece of me in every major heroine I write. Maybe Leigh Anne a little bit extra :).
The Trouble With I Do comes full circle, returning us to the first couple in the series, Leigh Anne and Knox. It felt, to me, like the perfect way to end this heartfelt series. Over the past three years, I genuinely have felt as though I've come to know these characters. I've felt their pain and been a part of their joy, but they are so much more than fictional characters to me. They are friends. I know that sounds so cheesy, but I mean it. It's tough to let go of characters I love so dearly, but I hope you will find that I gave them the ending they deserved.
You can pick up your copy of The Trouble With I Do here:
AmazonBarnes & NobleGoogleiBooksKobo
The trouble with 'I Do' is that in order to live the life of their dreams, they'll have to face the nightmares of their past…
Leigh Anne Davis came home to the small town of Fairhope, Georgia two years ago, believing her life was over. Instead, she fell madly in love, reconnected with dear friends, and built a new life for herself. Still, she can't help but feel that something is missing. She wants nothing more than to be the happy woman everyone expects her to be, but some wounds cut so deep, they leave scars that never fully heal.
When Knox Warner came to Fairhope, he was running from a past he wanted desperately to forget. He never dreamed he would become so close to his cousin and uncle, build a business of his own, and fall in love with a woman who understands him in a way no one ever has before. He's ready to propose to Leigh Anne, but her family's expectations bring back feelings of self-doubt he thought he'd conquered when his father died.
Will Leigh Anne and Knox allow the pain of their past to tear them apart? Or will they finally fight for the love they deserve?
Thank you so much to everyone who has read and supported this series, whether you just recently discovered it or if you've been around from the beginning. I love and appreciate each of you!!!