I am so excited for you guys to read this book! After a long break, I was able to go back to my pure joy of writing with this one, and it has all the elements I love in a story: mystery, twists, magic, and romance! If you love the Demons series, I know you are going to enjoy Deep Dark Secrets, Book 1 of The Spiritwalkers series.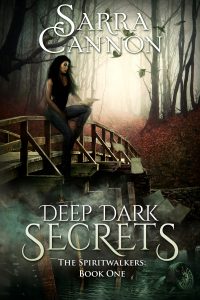 Buy it now:
The deadliest secrets are the ones we keep from ourselves…
One year ago, seventeen-year-old Marayah Freeman nearly died in a tragic car accident that also took the life of her best friend, Hailey.
Memories of the accident plague Marayah, but no one believes they're real. They say there was no shadowy figure on the bridge that night. No oil-black tears running down Hailey's face. No guy who appeared from a bright light in the forest.
Frustrated, Marayah locks those memories away and tries to focus on the future, but the past keeps pulling her back. A guy who looks like the stranger from the forest enrolls in her school, and her nightmares are getting worse. But when she finds a note in her locker, the mystery of the accident becomes more terrifying than ever. The note is from Hailey.
"Marayah,
If I'm dead—
it wasn't an accident."