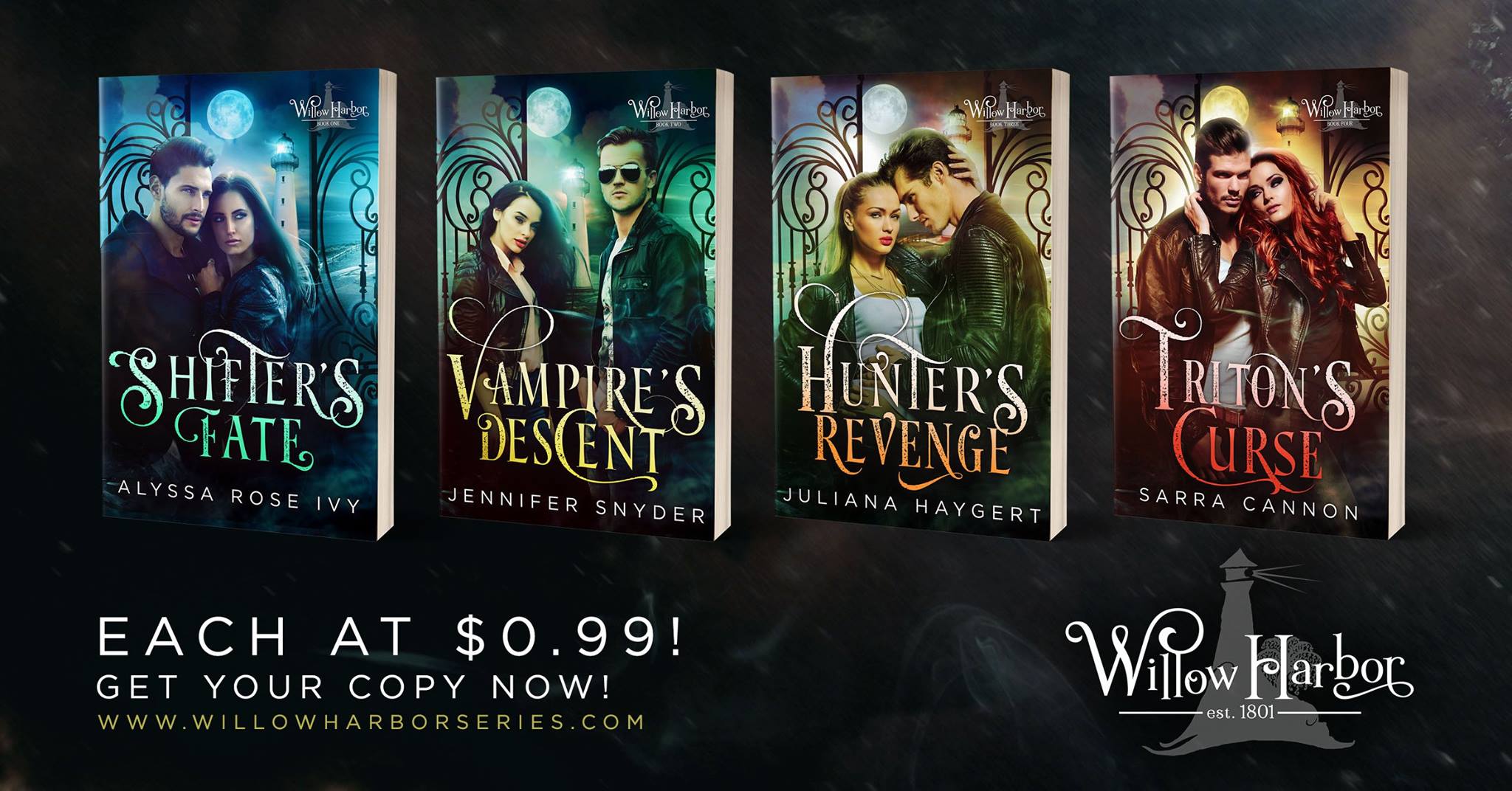 I'm so happy to finally be able to introduce you guys to the mysterious town of Willow Harbor! This is a major passion project between me and three of my best author friends – Alyssa Rose Ivy, Jennifer Snyder, and Juliana Haygert. We worked together several years ago to write the "Midnight Kiss" novella collection, but last year we decided to do something even bigger and better!
Willow Harbor is a town we created on the coast of South Carolina. Everyone in this beach town has a secret or is hiding a secret supernatural identity. Each book in the Willow Harbor series is a standalone paranormal romance with a touch of suspense. You can read them in any order. No cliffhangers. All happy endings :). Yes, I know, something new for me, haha. It's actually the perfect blend of a Fairhope small-town romance with my more paranormal/fantasy elements. I know you're going to love it!
Today, we release the first four books in this series for the special price of just 99 cents each! My book, Triton's Curse, introduces the characters of Nik and Eva – a triton and a witch. I can't wait for you to read their story. Buy it now: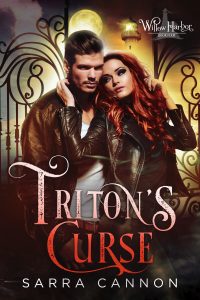 Sometimes freedom comes at a cost…
As the last in a line of powerful witches, Eva McKay has been held captive for years by a greedy demon who treated her more like a possession than a human being. Three days ago, she escaped. Sure that he's out searching for her, Eva runs as far and as fast as she can. That is, until she falls asleep at the wheel and crashes her car in the mysterious town of Willow Harbor.
Once a mighty triton, Nikolas Kosta is now a slave. Ten years ago, he trusted the wrong person and ended up shackled, cursed to live in human form, and the prisoner of a manipulative siren named Selena. Nik resigned himself to his misery long ago, but when a beautiful and secretive woman named Eva crashes near the docks where he works, she awakens something inside him he'd thought was lost.
Both desperate for freedom and a life on their own terms, Nik and Eva are reluctant to open their hearts to anyone. But when the demon tracks Eva down and Nik's boss demands far more than he's willing to pay, will they have the courage to trust each other? Or will their freedom be taken from them forever?
Strange Neighbors. Hidden Desires. Small Town Charm. Welcome to Willow Harbor where everyone has a secret. What's yours?
The Willow Harbor Series: Standalone NA Paranormal Romance

Book 1: Shifter's Fate by Alyssa Rose Ivy
Book 2: Vampire's Descent by Jennifer Snyder
Book 3: Hunter's Revenge by Juliana Haygert
Book 4: Triton's Curse by Sarra Cannon