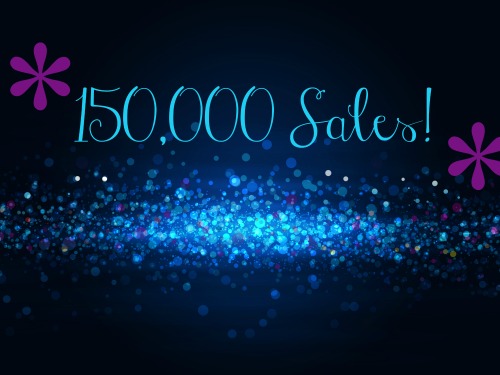 I was so hoping to hit this major milestone before my 3 year Indie-versary in October, and wow! I made it!!! This is such a dream come true and when I think about the number 150,000, it makes me want to sit down and cry out of sheer gratefulness. I am so happy to be a full-time writer and to have people who come back to my books over and over. First and foremost, thank you to all my readers and friends for your support over the past 3 years. I couldn't have done this without you.
When I hit the 100,000 sales milestone back in September of 2012, I posted information on the numbers and how I got there. I thought I would update those numbers now, then share the top 10 things I've learned along the way. Believe me, I know there are many authors who have achieved far greater sales, but I also know that I'm very lucky to have come this far.
We often hear a lot about the really BIG sellers, but I think it's good to see that there are also people like me who are making a good living without selling tens of thousands of books a month. I've never had a single month of ten thousand sales (so close this month but not quite!). I don't publish a book a month. In fact, I took quite a bit of time off to have a baby. I've made it to 150,000 without a huge breakout month. I'm not hitting any major bestseller lists, but I'm supporting my family and living my dream. I hope that by sharing my numbers and more about what I've done, some people will feel encouraged and inspired. I hope that this will help others realize that the dream of making a living as a writer is achievable and real, even without the bestseller lists.
THE NUMBERS
If you look back to the 100k post I made, you'll see that some of the numbers are different. I recently purchased TrackerBox software and it's been like a miracle! Before, I was doing everything by hand (and I'm terrible with math). Now, though, I just feed all of my sales reports into TrackerBox and it compiles the information for me.
First, I arranged the numbers by Month. I published my first book, Beautiful Demons, toward the end of October 2010. To the right, I've listed any new releases. You'll notice the huge gap in 2012. My son was born in June 2012 and I had a really hard time writing during my late pregnancy and his early life. The only reason my sales continued to grow was because Beautiful Demons went perma-free in April 2012.
In blue, I've marked my best selling month, July 2011. I'm still hopeful I could beat that by the end of September if the next few days are good! The 10k sales in a month, however, still eludes me.
I've also broken it down by book, just so you can see the series sell-through on my different series. Since my Peachville High Demons series was the one I concentrated on for most of my publishing career, it's the biggest seller. Once the series ended in December, I entered a rebuilding phase. I'm writing one series in a new genre (NA contemporary) and have started a new YA series (zombies! yay!). You'll notice the zombie/witch book (Death's Awakening) hasn't sold a ton of copies, but I'm not giving up on this series. I have confidence that after three or four books in the series, it will start to sell a lot better. Besides, I loved writing the first book and can't wait to write the next one!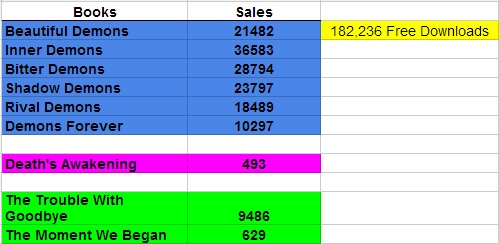 Finally, I have separated the numbers out by vendor. Amazon.com is by far the bulk of my sales and income. I've been really happy to see a lot of growth lately at Kobo and Amazon UK, so I am hoping they continue to build.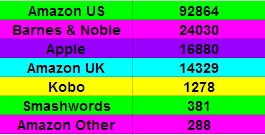 MY TOP 10 TIPS
I wanted to talk a little about what's worked for me, what I would recommend to other Indie authors, and what I've learned along the way. These are just tips and opinions, though, because there is no ONE WAY. There's no magic bullet or proven sure-fire path. There's only what works for you and what doesn't. None of these tips are meant to be taken as 'you must do this' kind of advice. There are plenty of examples of successful authors who took different paths from me and found great success. All I can speak on, though, is what I've done and what works in my situation.
1. Write A Series – Deciding to dedicate all of my early publishing career to a single series paid off tremendously well for me. It's my belief that most readers are more loyal to a set of characters or a series than they are to an author. Especially when that author only has one or two books published. Sure, once you're Stephen King or Nora Roberts and you've proven a hundred times over that you can write great fiction, you can get by with starting all kinds of new series and writing lots of stand-alone novels. Newer Indie authors can do that too, but the road will most likely be slower and more uphill for you if you're writing stand-alones or several series at once.
I found this out somewhat the hard way because once my Demons series was done, my next YA series starter, Death's Awakening, didn't sell well. I blindly expected most of my fans to follow me to this new series, but for some reason, not many have yet. I'm not giving up on it, because I love this series, but I understand now that realistically, it might take 3 or 4 books in the new series before it starts to catch on. If you're just starting out, consider writing one strong series and focusing your attention on that. Give it at least 3 books before you make any judgment on its viability as a money-maker. Consider starting the next series, though, before you end the first one. This is something I would change if I could.
2. Be Yourself – One of the things that makes being a writer so much fun for me is the daily interaction with other writers and readers. I love talking to fans on Facebook and Twitter, responding to emails that come through my website, and chatting with other authors on KBoards or other online sites. I have found that it's just best to simply be yourself when you're talking to everyone. There's no need to put a lot of pressure on yourself to create some amazing online personality. Just be yourself. Be authentic. People will respond to that.
3. Start A Mailing List – I wish I had done this on day 1. It's an important part of my publishing path now because it's the most direct way to reach readers who enjoy my books. Whenever I have a new release, I send an email to the people who have signed up for my mailing list. I use Mailchimp, but I'm sure there are several choices out there for managing a mailing list. I simply put a link to this list in the back of my books and on my website so people who want to know about new releases will get notices right away. Even if your list only begins with one or two people a month, that's okay. Those are one or two more people who will probably buy your book the day it comes out. I highly recommend starting your mailing list right away!
4. Pay Attention – There is nothing static about the publishing industry right now. The game is completely different now than it was three years ago when I started, and I'm sure it will be different this time next year. It's a rapidly evolving eco-system and if you aren't paying attention to changes at various vendors or policies at different websites, you might be missing out on marketing opportunities. You also might be planning a launch around something that isn't true anymore. Maybe Amazon's algorithms changed and now free books aren't weighted the same. Maybe several vendors suddenly changed their websites around and have new categories. Pay attention to the changes. Pay attention to what's working for other authors around you.
5. Get The Next Book Out – Do you have to publish a book a month or six books a year to have a career as an Indie author? Absolutely NOT. Does it help? Most of the time, yes, but it's not necessary if it means killing yourself or compromising yourself to do it. I built most of my sales by releasing about 2-3 books a year. I believe the fast releases in the beginning helped me out, but even if I'd gone slower, it would have been okay. Always look to the next book. Sit your butt down in the chair and write it to the best of your ability and as quickly as you can, but keep your sanity and your health as a priority. Work as hard as you can, but forgive yourself when you can't keep up.
With that being said, I firmly believe your best marketing tool is your next book. And the next one. For most people, tweaking covers and taking out ads and entering contests is never going to do as much for you as writing your next book. I'm not saying don't do those other things. I'm just saying don't do them INSTEAD of writing.
6. STOP Comparing Yourself To Others – This is a really tough one for me, but it's also one of the most important to remember. Self-publishing is an extremely fast-paced world. People who were low on the totem pole six months ago might be sitting in the number one spot on Amazon tomorrow. Watching others zoom past us in sales and income can really take its toll. We start to ask ourself why? What am I doing wrong? Why can't I find that kind of success? While there might be value in watching what someone else has done and emulating that, be careful not to let jealousy or fear or envy eat at your creative energy.
I've had days where a single bad review comes in on one of my books and then bam, I look and see a fellow Indie author announcing they just hit the NYT Bestseller list, and suddenly my whole writing day is wrecked. It's embarrassing to admit it, but I bet I'm not the only one this happens to. I'm happy for the success of my friends, but when I see someone achieving everything I want (and seeming to do it effortlessly), it brings me down. Not down on them, down on me. It's toxic and poisonous to my writing life when I compare myself to others and wonder why I'm not where they are. It's better to remember that we're each on an individual journey. Don't miss the fun and excitement of celebrating your own successes (no matter how small you think they are), just because you're too busy comparing yourself to other authors.
Remember this: There's no time limit on success. Just because it feels like everyone around you is doing better than you now doesn't mean you won't be right there with them by this time next year. Keep working, concentrate on your own goals, and don't give up.
7. Reward Yourself – Find exciting and motivational ways to reward yourself for writing. I love writing and I have heard people say it should be its own reward, but man, sometimes self-publishing is tough. I need a little pick-me-up to help me get back in the saddle and keep working. My amazing husband came up with a points/reward system to help motivate me. He calls it the "Sweetie Store". I'm obsessed with Hello Kitty, colorful pens and post-its, and all things cute. When we see something I want, whether it's a $1 pencil or a $60 purse, we buy it and put it in the Sweetie Store. For every $1 spent on the item, I have to earn 1000 Sweetie Points. So if I really want a $20 pencil case, I have to earn 20,000 Sweetie Points.
How do I earn these points? Easy. I write. 1 word = 1 point. (He's a programmer so he actually wrote a program where I put points in and it factors in bonuses for me too. For example, if I have a big day and write 5000 words, I get 5000 bonus points.) When I've earned the points, I cash out, get my item from the store and wear a huge smile on my face. It may sound silly, but it keeps me writing! It keeps me motivated even on days when I feel sad or discouraged. If you're just starting out or don't have the money to do this kind of store system, come up with some other way to reward yourself. Something that really gets you excited. It can be as simple as getting to play Candy Crush for twenty minutes without interruption or guilt. Make it work for you and I promise you'll see results.
This was my latest Sweetie Store splurge. I saved all my points from writing the end of The Moment We Began and bought a new purse, stickers, post-its, a pencil case, all kinds of fun stuff!!!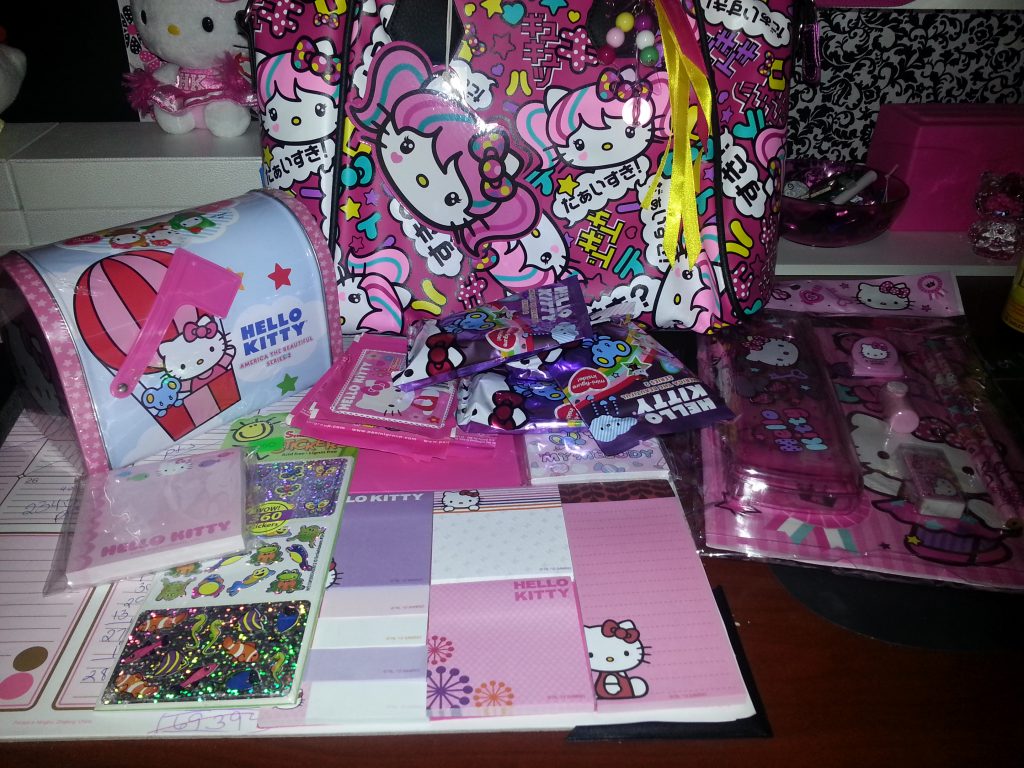 8. Write In Sprints – Since fast releases are beneficial to almost every Indie author, another way to produce more words in a day is to write in sprints. I use a program called Focus Booster. It's a simple timer that I can set to 10-15-20 minutes (or however many I want), and then factor in a break between. This is the same as the Pomodoro technique. My writing evening might look like this: Write 15 minutes, take a 5 minute break. Write 15 minutes, take a 5 minute break. Write 15 minutes, take a 30 minute break.
As long as I focus for those 15 minutes, I know I'll get at least a few hundred words. If I'm on an exciting part of the story, I can get as many as 1,000 words in a sprint. Do that 4 or 5 times a day and suddenly I have 2,000 or more words done. And it barely felt like work. Sprinting with friends and other writers helps too. I have a group of friends who sprint with me often, and it makes a world of difference in keeping me motivated! As a mom to a 15 month old, it also helps me to grab 10 or 15 minutes here and there throughout the day when a spot opens up. You'd be surprised how fast the words add up when you're sprinting.
9. Write What You Love – I completely understand that we all want to make money doing this. We all want to quit our day jobs and write for a living, right? But if you write in a genre you don't like just because it's hot and you think you'll make more money, you're kind of missing the point. If you want to write because you love it and it makes you happy, don't steal your own joy by writing something you don't love just to pay the bills. Of course, I don't mean you shouldn't try new things and try your best to be business-minded when it comes to what you're writing. If you have a story in a hot genre that excites you, write it and see what happens. Just don't force yourself to write a genre you don't like writing in hopes of hitting it big and making a lot of money. For one, the readers will usually be able to tell. And second, it really will steal your joy.
10. Believe In Yourself – This is one of the top tips I have for you. Trust your own instincts. Being Indie means being a professional, full-time decision-maker. We're faced with so many decisions all day long and no one to really tell us which path is best. It can be debilitating.
If you can learn to truly believe in yourself, you're setting yourself up for success. YOU are in control of your covers, your content, your path. Stop focusing on the things you can't control like algorithms and crappy luck when it comes to glitches on launch day. You can't control the fact that a major publisher just dumped 800 backlist titles onto Amazon at $1.99, so stop worrying about them.
Believe in yourself. Do what you feel is best for you and your fans. It's going to pay off in the best way for you, because once you learn to cut out the noise that leads to self-doubt and fear, your writing will be better and faster.
I feel like I have so much more to say, but I also feel like it'll be a miracle if anyone gets this far on such a long post

. I want to say again how grateful I am to have this as my job. Next month, I'll celebrate 3 years as a full-time Indie author. It's been a wild ride so far, and I'm looking forward to the journey ahead. Here's to the next 150,000!