SACRIFICE ME: THE COMPLETE SEASON ONE is on sale for just $3.99!!!
Get the entire first season (all SIX episodes and nearly 120,000 words, or the length of two full novels) in the Sacrifice Me box set for just $3.99.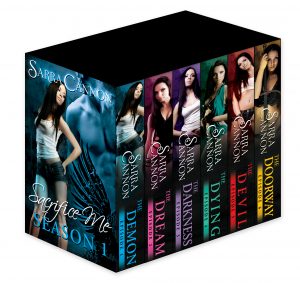 Amazon
You can also read the first episode for FREE!!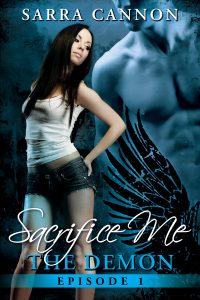 Amazon
Amazon UK
On her twenty-first birthday, Franki Smith receives a dozen black roses and an unsigned invitation to a nightclub that doesn't seem to exist. Two handwritten words near the top haunt her. "Little Bird." Her mother's nickname for her.
Only, Franki's mother disappeared without a trace exactly three years ago to the day.
Who sent this dark gift? Franki's need to answer this question will lead her to the doorway of a strange, dangerous, and sexy new world. A world her mother went to great lengths to keep hidden.
A world someone desperately wants Franki to discover.
Re-discover the world of the bestselling Peachville High Demons series through the eyes of a brand-new, kickass heroine! You don't have to have read the original series to understand this one, but readers who are familiar with the first series will see a lot of similarities and references!!
This is a serial, which means it will be released in shorter episodes, similar to the way a TV series works. The first 2 episodes will be available May 12th and the rest will come out every two weeks after that. For a full release schedule, visit the Sacrifice Me page.
BUY EPISODE 1 NOW!!
A DEMON'S WRATH: PART II is now available!!!!
Almost twice as long as part I, this novella from Jackson's point-of-view reveals a lot of his backstory after his brother was taken from the Shadow World. It also gives some amazing updates on what's going on now between Jackson and Harper, including a very special moment you won't want to miss!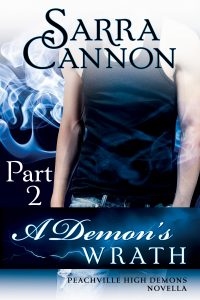 Amazon  |   Amazon UK  |  Barnes & Noble  | Google Play | Kobo  |  iTunes
Missed Part I? This 20,000 word novella updates you on what's going on right now with the Demon Liberation Movement, but more importantly, it takes you back to the Shadow World through a series of flashbacks as Jackson remembers his life when his brother Aerden was first taken by the Order of Shadows.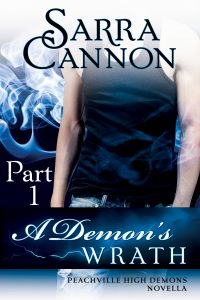 Buy A Demon's Wrath: Part I
If you're just discovering my books, you might want to try out my Young Adult paranormal series, starting with Beautiful Demons.
Beautiful Demons is currently FREE pretty much everywhere. Amazon, Barnes & Noble, iTunes, Google Play, Smashwords, and Kobo. I'm sure most of you who are visiting this site have already read the books, but I would appreciate it if you'd tell all your friends about Beautiful Demons and make sure they know it's free to download the first book in the series.
There are six books total in this series, and a spin-off series will begin in Spring 2014 with EMERALD DARKNESS.
Thank you so much for taking a chance on me and supporting me as an Indie author. I <3 my fans so much and appreciate every single one of you. I hope you'll take some time and explore my website, blog and books!
xoxo,